If your school uses an option that synchronises login with another site, please contact your administrator about how to log in.
Option 1: Logging in at myon.co.uk Via a Web Browser
If your school logs in at the myON.co.uk site, open a new browser tab and navigate to www.myon.co.uk/login/index.html. (For some users, the address may be different; use the address that your school provides to you.) The login screen appears as follows: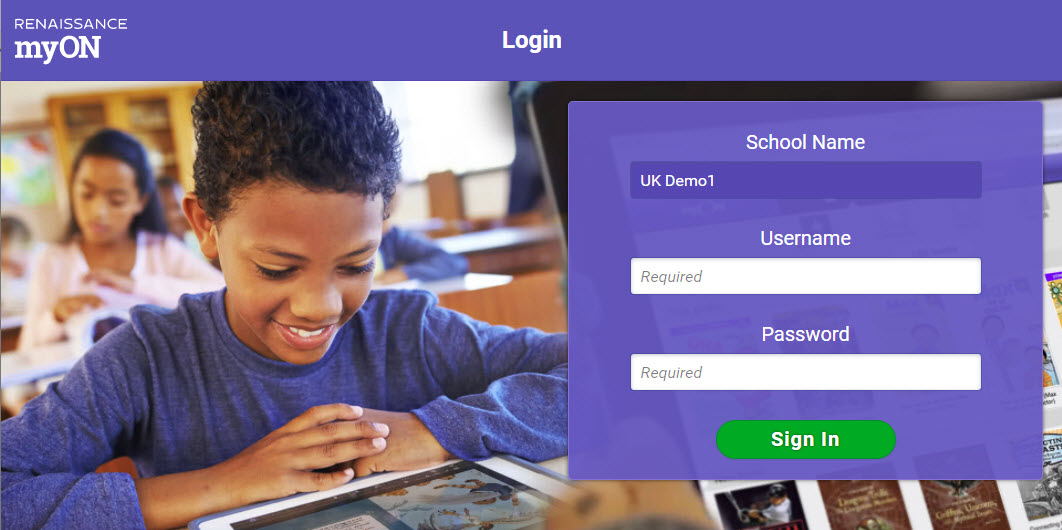 Please enter your school name, user name and password as provided to you by your teacher or administrator for myON. Then, click Sign In.
If your school name is not listed after you type the first few characters, see School Name Does Not Appear in Drop-Down List.
Would you like the school name to be entered for users automatically?
If you would like users to be able to skip entering the school name, you can share a direct link to myON specifically for each school. School Administrators can find the link by selecting My School, then Account. On the Overview tab, at the bottom of the page, you will see the Direct URL field, and you can enter your own text for the end of the URL (3-255 characters, including letters, numbers, hyphens and underscores). After saving your changes, copy the URL below the field and provide it to your users to give them a direct link to your myON school. (Group Administrators can also see and set the direct URL by selecting My Group, then Account, then selecting a school on the Schools tab.)
Option #2: Opening myON from your Renaissance Home Page
For some customers, myON software is available from the Renaissance Home page. After logging in to Renaissance software, teachers, administrators, and school staff select myON under "Manage Student Practice".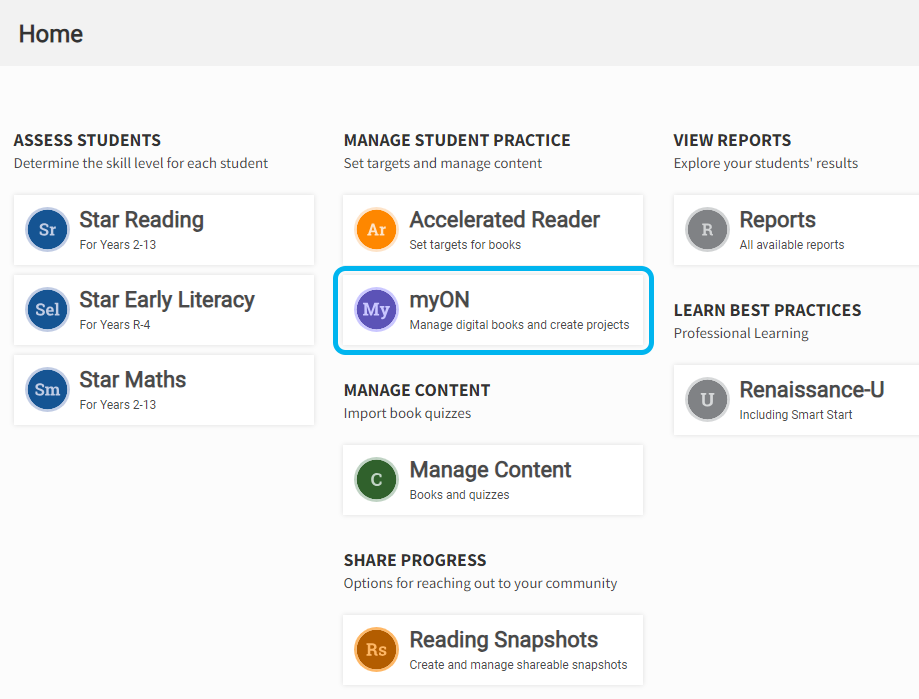 After students log in, they select myON on their Home page.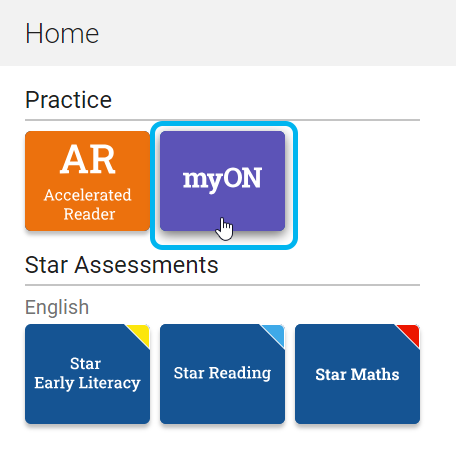 Teachers and students see the myON tile when myON has been assigned to their class by the administrator in Renaissance software.
Option 3: Logging in to the myON Mobile Apps
Locate and open the myON app from your selected device. (iPad, Android, Kindle Fire HD, or Chrome). New users will need to be added to the app.
What if I have problems logging in with the information I was provided?
User Name or Password Issues
If you experience issues with logging in to myON via a web browser, or if you have forgotten your password, the message you will likely see is "Invalid Username or Password".
If you experience issues with logging in to myON via the app, or you have forgotten your password, you may see a message that tells you the user name or password you entered was incorrect. If you get this message, try to log in again. If you continue to get this message, do one of the following:
Students: Contact your teacher.
Teachers: Contact your School Administrator.
School Administrators: Contact the Group Administrator.
Group Administrator: Contact your data person.



Please note: Due to data privacy laws and policies, myON Technical Support is not able to provide specific student user names and passwords for myON. Contact the teacher or school directly for this information.
Licence Is Expired Message
You may see this message if:
A new myON subscription is still being processed.
The subscription for myON has expired.
Contact your administrator, or contact myON Technical Support.
Flashing Screen or Repeated Inactivity Warnings After Logging In
Make sure the date and time and the time zone are set correctly on the computer. If this does not solve the problem, contact Technical Support.
Message with a Picture of a Troll
You will see more information about the error under the picture. For help troubleshooting the issue, contact myON Support.
Need More Help?
If you need assistance logging in, contact myON Technical Support.